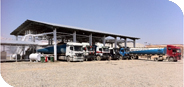 HDG is Afghanistan's leading supplier of bulk gasoline, bulk diesel and Jet Fuel.

With our comprehensive fuel network and HDG owned transport trucks and storage facilities throughout the country; we maintain supply and distribution agreements with refineries in Turkmenistan, Uzbekistan, and Pakistan. This enables us to offer our customers, low cost, high grade fuels to cover all our customers' small or large fuel needs. We provide fuel to commercial, government, and wholesale customers of all sizes and to every location and on site delivery – nationwide.

Large Fuel Distribution
HDG owned storage facilities and epoxy coated tanker trucks make it possible to provide your organization with all types of fuel-countrywide.

Small Fuel Distribution
Our fleet of modern delivery trucks have calibrated pump meters and plenty of hose to reach those out of the way fuel tanks.
We can supply your fuel needs on a daily, weekly, bi-weekly or monthly basis. Villas, construction sites, ministries or military bases-we are your fuel supplier. Our tankers come to your residence or place of business and fuel your vehicles and generator tanks with diesel or gasoline. All fuels are kept on completely separate hose systems to eliminate cross contamination. Fueling can be performed any time of the day or night according to your schedule.

Advantages of our on-site refueling include:
Decrease lost productivity
Control cost
Customized fuel programs
Customized fuel reports
Certified metered deliveries

Our on-site delivery program supports the ability to deliver large and small quantities of fuel 24 hours a day, 7 days a week. This availability has allowed us to develop the largest on-site fueling service in Afghanistan.