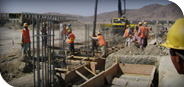 The activities of HDG are as complex as the challenges facing the company and the demands placed upon it. HDG construction division's three lines of business form the cornerstone of a range of services which covers the entire value-added chain in the construction industry: Building Construction & Civil Engineering; Road Construction, Fuel Storage Construction and Special Projects like Hydro Power stations or Irrigation and water supply systems.

Next to Road Construction, the Building Construction & Civil Engineering segment is the most important business field for HDG. The range of services includes projects of different sizes and as varied as excavation, commercial-, industrial and residential buildings and major bridge work.

HDG draws heavily on the firms experience gained over the past 7 years in more than 100 projects successfully completed: The construction of schools and multi-purpose barracks; geotechnical services; road constructions; restoration of buildings as well as construction of antenna towers all over Afghanistan, just to name a few of them.

This solid base of references and professional experience provides our current teams with the obligation and the motivation to perform even better in the future.

We serve a wide range of clients in the public and private sectors: governments, industrial, general building and civil engineering contractors, property developers etc.

Initially a subcontractor, we are now happy to be the main contractor or partner.
HDGs continued improvement of the Group's technical capabilities which fundamentally rely on a constant commitment to personnel training and recruitment of new employees who bring their skills and experience to our operations.